Ensuring the Future of the Poultry and Egg Industry
Your USPOULTRY Foundation is making a difference!
We are building on our success, having invested more
than $1 million in the industry over the last year.
The leadership of the Foundation is more important than ever as the industry faces ever-evolving challenges from disease and supply chain crisis to declining sources for funding important research.
The Foundation's mission is clear:
Support the recruitment and training of the brightest students
Seek and fund scientific research
Foster student scientists
Promote careers in the poultry and egg industry
We look forward to continuing our legacy of success and partnering with you and other industry leaders to ensure the future. With your help, we can build the next generation of leaders in the poultry industry, while conducting vital research to ensure our continued production of a safe, sustainable wholesome and affordable poultry and egg products.
Spotlight
University of Georgia Awarded $25,734 USPOULTRY Foundation Student Recruiting Grant
The USPOULTRY Foundation recently awarded a $25,734 student recruiting grant to the University of Georgia, and the grant was made possible in part by an endowing Foundation gift from the Leland Bagwell Education and Innovation Fund. The funds will be used to help recruit students, furthering the program's significant influence on the future of the poultry industry in Georgia and around the world.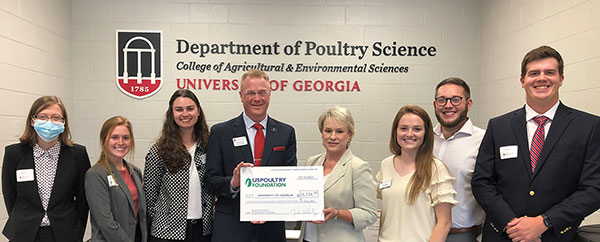 Read More
Newsletters
PARTNERS IN POULTRY
The Partners in Poultry newsletter is published quarterly and includes information on the USPOULTRY Foundation's activities and other Association news.
Read Latest Issue
ANNUAL REPORT
The USPOULTRY Foundation provides a yearly annual report that includes information on activities, events and other news.
Read Latest Issue
latest news